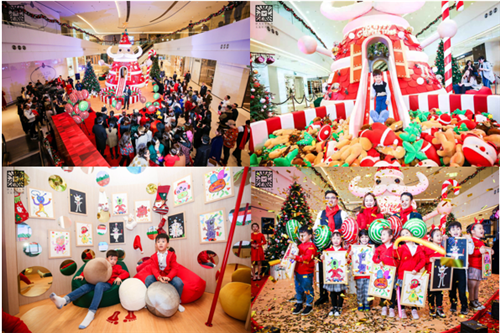 In the 2019 Christmas season, Dalian Times Square will create a "Christmas Fun Paradise" exhibition installation, which integrates a large slide, Santa Claus, Christmas tree and other elements into a novel and interesting Christmas installation. With the theme of "Fairyfurry Fairyfurry", children are invited to do creative elf painting. Children's wild imagination combined with creative animation technology, a unique Christmas journey is being performed here.
"Christmas Fun Paradise" theme exhibition opens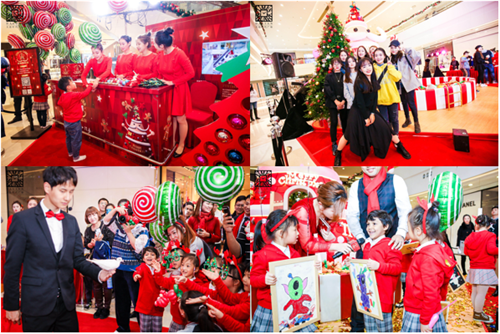 At 15:00 on November 22, 2019, the opening ceremony of the Christmas Fun Paradise exhibition hosted by Dalian Times Square officially began. The guests at the scene held creative Santa balloons, gathered together in front of the Christmas installation, and watched magic shows full of magic and fun. Mr. Fang Yong, Deputy General Manager (Operation) of Dalian Times Square Commercial Co., Ltd., Ms. Liang Zhenheng, Manager of Promotion and Advertising Department, and Mr. Wang Chao, Otio Kindergarten principal, together illuminated the Christmas installation and welcomed the new Christmas season of the year. After the light-up ceremony, the young artists of Otio Kindergarten came on stage to share their creative inspirations, and the creative ideas full of childishness caused laughter and applause at the scene. The ceremony gradually faded out after the guests' toast and lucky draw, and the guests at the scene went to the Christmas installation to experience the game interaction in a warm Christmas atmosphere.
"Christmas Fun House" · Unlock New Christmas Fun
The theme installation of "Christmas Fun Paradise" created by Dalian Times Square in the atrium is divided into two main parts: "Christmas Fun House" and "Fun Energy Pool". The whole installation is in the shape of a round and cute Santa Claus, while the classic red robe Next, there was a hidden entrance. Enter the device, and animated short films created by the children's inspiration come into view. Customers can interact with the device to take a unique picture of the elf to save. Follow the stairs to the second floor and you will reach the top of the big slide. The fun energy pool will be in your sight. Hundreds of soft pillows in the pool will greet the children who rush down from the slide.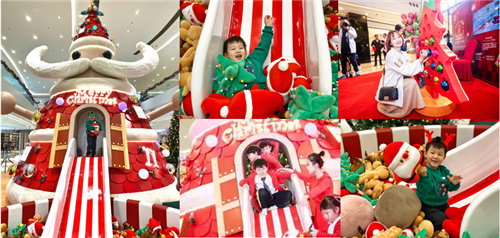 "Energy Elves" · Little Artist
Dalian Times Square invited eleven children from Otio Kindergarten to creatively draw eleven child-like shapes of elves, and to make a second creation to present the animation animation of "Energy Elves Alliance". In the short film, a mysterious force of the outer space galaxy destroyed the homeland of the elves, and in order to gain energy to rebuild their homes, the elves came to the fun energy pool of Dalian Times Square, and a wonderful outer space adventure was in Dalian Times Square set sail. In the exhibition installation, the animated short film was shown to the public, and the original paintings of eleven children were displayed, which set off the eleventh anniversary of Dalian Times Square and the Christmas season full of magic.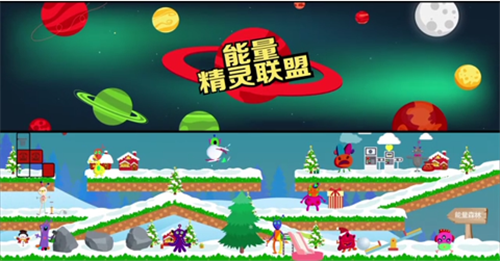 "Christmas Fun Paradise" Exclusive Event Preview
Gift with full amount: If you spend over 20,000 yuan, you can redeem a custom blanket with 8,000 points.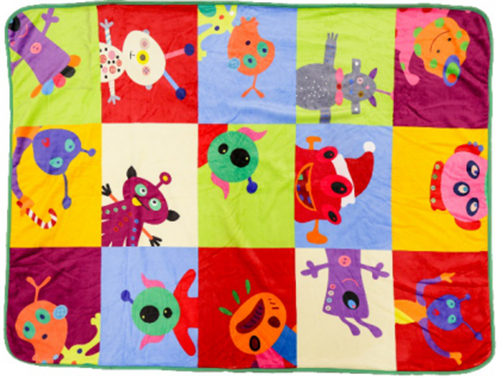 Christmas Fun Place
2019.12.21 14:00 Venue: L1 Atrium
Interactive and courteous
Share device interactive game link to circle of friends
You can pick up a Christmas warm drink at the coffee bar in Dalian Times Square with a valid page
Guan Dalian Times Square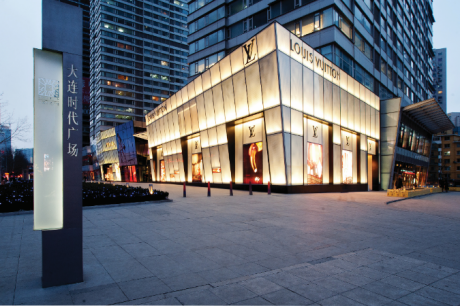 Dalian Times Square is a landmark commercial real estate in Dalian. It belongs to Hong Kong Wharf Group together with Harbour City, a shopping mall in Hong Kong. There are more than thirty international first-line brands gathered here, and the products are also launched simultaneously with the official brands. With its unique building design and fashionable shopping and living experience, it has become the benchmark of fashion in Dalian. The mall has selected themed activities such as fashion salons and international cultural experiences to convey personality and high-quality fashion elements. It is deeply sought after and supported by high-end people who pursue creative design and enjoy cultural life. Walking into Dalian Times Square is like going to Paris, New York, London and other fashion metropolises, letting you enjoy the perfect shopping experience like heaven.
General Arts And Crafts:
General arts and crafts are handicraft product, namely, by hand or by machine will be raw materials or semi-finished products processing and artistic value of the product. General Arts And Crafts originates from life, and create the higher than the value of life. It is the crystallization of wisdom, and fully embodies the creative and artistic. These General arts and crafts are divided into Tools And Accessories, LED Light String Metal Ornaments, stickers, photo frame, Metal Display shelf, glitter powder, artificial flower, Paper Craft, Wedding Crafts, Felt Products, Art Supplies, Crafts And Hobbies, Stringing Materials, Stamp, Ribbons, Knitting And Crochet, Seasonal Crafts, Garland, Eva Products, Storages, Buckles, Lanyards, Badgess, Inflatable Ballon, Display Crafts. These General arts and crafts exquisitely, price is low, content is rich and colorful, lively and interesting, can cater to tide, produced by using environmental protection material, the development prospect is very considerable. Popular with the customers, which can be customized according to customer demand, Ningbo Younker also can print LOGO according to your requirements. I believe that Ningbo Younker must be a good choice for you!
General Arts and Crafts:
1. Name: General Arts and Crafts.
2. Material: zinc alloy, stainless steel, aluminum, brass, plastic, polyester, resin, ABS, acrylic, PP, PVC, PET, PE, paper, cotton, nylon, wood, artificial crystal, Cotton canvas, linen, fabric and so on. Eco-friendly, could meet EU standard.
3.Size: Customer size.
4. Color: pantone colors as per customer
5. Usage: promotion / children / adult.
6. Logo: Printing and mould injection.
7. Imprint Method: Silk printing; Heat transfer printing and so on
8. Style: Stylish, Customized style is available.
9. Feature: Safety materials with certification.
10. Packing: 1pcs/opp or Customized packing is accepted.
11. Design: ODM, OEM, Design Service Offered and Buyer Label Offered are welcomed.
12. Shipping Port: Ningbo or Shanghai.
13. Shipping Method: By Courier, Air cargo and Sea.
14. Sample time: 7-10 days.
15. Shipping time: 20-30 days after confirmation.
General Arts And Crafts
General Arts And Crafts,Tools And Accessories,Fashion Accessories And Fittings
Ningbo Younker Fashion Accessory Industrial Corp. , https://www.youngerfa.com