On August 14th, Lingdi Style3D Nordic Branch was formally established. While advancing the digital transformation of domestic service companies, it also marked that Lingdi Technology will enter the acceleration mode of globalization.
Due to the limited epidemic situation, the Hangzhou headquarters will connect with the Nordic branch-Denmark office through remote video at the establishment ceremony of the branch. At the headquarters site, Lingdi Style3D founder and CEO Liu Chen attended the inauguration ceremony and simultaneously cut the ribbon with the Nordic branch.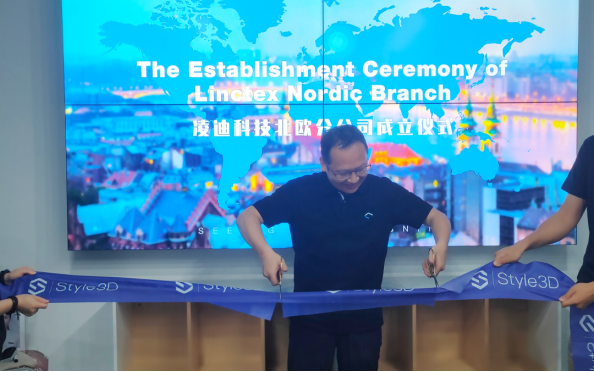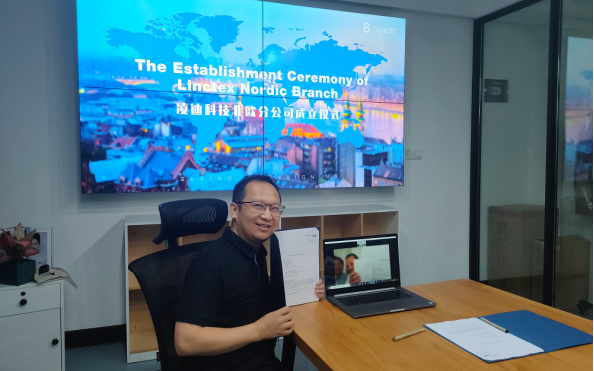 The opening ceremony of the Nordic branch
The establishment of the Nordic branch is a strategic move by Lingdi Style3D, and it has taken a solid step for Lingdi Technology to create a digital ecology of the apparel industry chain.
Layout Europe
Realize digital same frequency at home and abroad
Europe, as a gathering place for global fashion brands, plays a pivotal role in the global textile and apparel trade, while China, as the largest exporter of textiles and apparel, occupies an important link in the industrial chain. In 2019 alone, China's textile and clothing accounted for 32% of the EU's overall imports, which is enough to see the closeness of the relationship between the two.
Months after the new crown virus swept Europe, countries such as London, Paris and Milan have also subverted traditions and are undergoing a digital "rebirth." The three major fashion weeks tacitly adopted the "online" format. Many fashion houses and designer brands have adopted different virtualized experiences to showcase this year's new products. Digitalization is an inevitable development of European service companies.
Lingdi Style3D established a Nordic branch, aiming to help domestic service companies and overseas brands achieve digital co-frequency through overseas deployment, open up online supply and procurement links, and become the digital cornerstone of service companies' overseas trade.
Build a digital bridge for domestic and foreign service companies
Ling Di has a plan
Through mature 3D technology and perfect platform services, Lingdi Style3D has gradually grown as the first choice for domestic service companies to transform and digitalize. As a leader in global clothing digitalization, overseas layout is both an inevitable choice and an important part of strategic layout.
Recently, Lingdi Style3D has reached a digital cooperation with Alibaba International Station, linking overseas merchants through cross-border e-commerce platforms such as Ali, and using 3D technology to help domestic and foreign service companies realize online supply and procurement collaboration, and empower domestic service companies to go digital overseas.
Not only that, Lingdi Style3D also frequently appeared in international clothing events such as the Canton Fair, Dubai Show, New York Show, to show the world the 3D design and digital strength of China's fashion industry, and continuously enhance the international influence of Chinese clothing 3D technology.
Style3D has attracted the attention of overseas customers in international exhibitions
At the inauguration ceremony, Liu Chen said: "In the next 1-2 years, Lingdi will establish more than ten branches and offices in global fashion centers. I believe that flexible simulation technology can go further, and 3D digital clothing will also Reshape the rules of the game in the global fashion industry chain."
1. Microfiber Fabric has a strong thermal insulation performance. The fabric will not mildew and insects. It is light and has a certain draping feeling. It also has water absorption and good moisture absorption and perspiration effect.
2. Microfiber Fabric will not pilling and shedding wool, and has a good handle. Moreover, the superfine denier fabric has a long service life and will not undergo protein hydrolysis.
3. Microfiber Fabric has high fiber density, strong adsorption capacity and easy cleaning.
Solid Microfiber Fabric,Microfiber Upholstery Fabric,Microfiber Furniture Fabric,Solid Cotton Fabric By The Yard
Shaoxing Haitang Textile Co., Ltd. , https://www.haitangfabric.com